December 4th, 2008
Sign of the Times
by Tim Manni
Although the nation's biggest banks have been grabbing the dire headlines, the smaller banks would like you to know that they're doing just fine:
While the nation's huge, troubled financial institutions have been gobbling up federal financial aid as if it were so much popcorn, thousands of banking Lilliputians don't need the aid, don't want it and wonder why their enormous competitors are being propped up with it.
Moreover, they're increasingly vocal that they're not part of the not part of the credit crunch:
"We don't have people coming to us and saying we got them into trouble. We kept them out of trouble," said Adams, president of Evergreen Federal Bank, which has $300 million in assets.

Adams said he remained faithful to the tenets of good banking — always balancing the relationship between risk and reward — even as many of his competitors reaped the profits that ballooned in tandem with the rise of the U.S. housing bubble earlier this decade.

In other words, he didn't give loans to people who probably couldn't pay the money back just to make a quick buck by selling those loans to Wall Street.

Now Adams doesn't have to throw those borrowers out on the street because they can no longer cover the monthly payments on exotic mortgages they could never afford in the first place.
Case in point: This sign not far from HSH's world headquarters.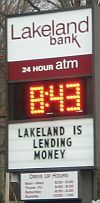 A picture is worth a thousand words.