March 28th, 2009
Our "Stimulus Survey" says…
by Tim Manni
As subscribers of our weekly Market Trends newsletter know, we run a three-question survey for two to three weeks to gauge what our readers think of some interesting topic.
The most recent survey — which runs through Sunday night, so there's still time for you to chime in — asked our readers "How About That Stimulus Tax Cut?"
The results so far have been quite telling: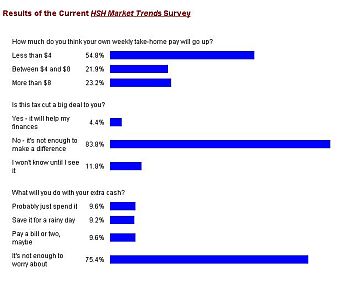 Over half of you think it will put less than $4 per week into your pocket. Sorry, but that was a trick question — or at least, we think so: President Obama promises it will be around $8.
Even so, over 80% of you don't think it will make much difference to you. Perhaps that was the point in making it so small? –That you'll just spend it rather than save it?
That was the consensus in our survey — that's it's not enough to worry about. To view the survey results, click here.
Well, we'll see. Eight bucks might just cover a pack of smokes including the new and higher tobacco tax. It's enough for about four gallons of gas (more or less, depending on your state's gas taxes), or a "dollar menu" meal for you and your better half.
Exit question: what will you do with your windfall? I've heard that Watchmen is worth seeing…