June 6th, 2009
Could There Ever Be a Market for the Nano?
by Tim Manni
Indian automaker Tata Motors announced plans to introduce their mini-auto, the "Nano", to Americans by 2011. The car, "designed to be cheap, simplistic transportation for the working classes of India," is expected to be introduced to Europeans within a similar timeframe.
The vehicle, which retails for $2,300 in India, is expected to cost significantly more in the states due to safety, style, and fuel standards.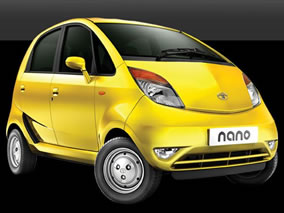 Will this minute passenger car ever catch on here in the states?
Taking into account the recent trends in the automotive industry, one could argue that the Nano has a fighting chance to win over American consumers. Thanks to pressure from the White House, General Motors will likely emerge from bankruptcy as an automaker dedicated to manufacturing much smaller, economical, and more fuel-efficient vehicles than what we're used to seeing.
Moreover, the recent introduction of such vehicles like the Mini Cooper and the Smart Car will make the Nano's small frame and odd shape seem a lot less strange to Americans in 2011, than if it was introduced to the market some three years ago.