April 26th, 2010
Can Housing Maintain Increased Activity Without Homebuyer Tax Credit?
by Tim Manni
If the end of the Federal Reserve's mortgage-backed security (MBS) purchase program didn't mean the end of low mortgage rates, does that mean the expiration of the homebuyer tax credit won't signal the end for a housing market on the rise?
Readers: Will homebuying activity fall off as soon as the homebuyer tax credit expires? Tell us what you think, leave your comment below.
The real estate news out last week indicated that homebuying activity was quite strong in March — existing home sales and new home sales were both up from the prior month and year. What we don't know yet is if the increase in activity can be attributed to housing's recovery or the pending expiration of the homebuyer tax credit.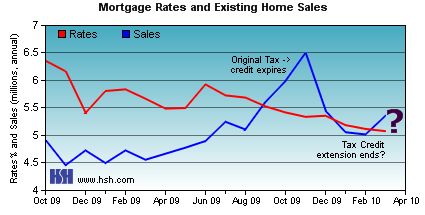 What Happened to Rates Last Week?
"Just a little bit of economic news out [last] week means just a little bit of movement for mortgage rates," according to "Mortgage Rates Mostly Level," the latest issue of HSH.com's Market Trends Newsletter. "Perhaps of more concern is that, just as signs of life are beginning to appear in the housing market, another support mechanism is coming to a fast end."
HSH's market-spanning Fixed-Rate Mortgage Indicator (FRMI) decreased by just two basis points [last] week to an average 5.36%. The FRMI includes rates for conforming, jumbo and the GSE's "high-limit" conforming products in its calculation and so covers a wide swath of the market. Borrowers looking for an alternate to the traditional fixed rate loan might look to a 5/1 ARM, which fell [last] week to 4.42%. This was also a decline of two basis points from the week prior.
What Can We Expect Out of Rates This Week?
Mortgage rates don't seem to want to go anywhere too quickly at the moment, but the Fed will probably judge things to be getting better, and there will probably start to be some speculation by the markets as to when the Fed will make a policy move (we're guesstimating July at this point). All told, we think mortgage rates will firm up a few basis points by the time our next survey is completed.
Click here to continue reading "Mortgage Rates Mostly Level." HSH.com's free Market Trends Newsletter, an in-depth analysis of various financial markets from the week prior, is published every Monday. Email subscribers receive it in their inbox Friday night, so sign up today! Also, be sure to check in with our Market Trends blog for all news relating to any weekly shift in mortgage rates.